Every company thrives for loyal customers, who will stay with the business for a longer period. For retaining them, loyalty program is undoubtedly one of the best options available.
A customer rewards program helps to increase sales, retain old customers and create a good reputation of your brand. So, if you have not yet included it in your marketing mix, then it's high time that you revise your overall business plan once again.
What is a Loyalty Program?
A loyalty program is a part of your overall customer success strategy that rewards the customers for doing business with the company. The reward can be in several forms like store credit, gifts, discount vouchers, prizes or any other offer that will entice a customer to stay loyal towards your brand.
How does it help your business?
Improved brand image amongst customers
Increased customer satisfaction
Helps to turn customers into brand ambassadors for your company
Increased sales conversions
Customer rewards program helps to build social proof
Helps to get more customer referrals
Loyalty programs are not too expensive
Here are some great loyalty program ideas:
1. An exclusive club for loyal members
Offer them something extraordinary and create an exclusive VIP club for your loyal members. There you can set a limit which customers need to reach to be a part of your VIP program. The set limit can be total dollars spent within a specific time, number of orders or customer referrals. Under VIP program, they will be offered with special services, deals, discounts and gifts.
A great example of this technique will be Sephora's VIB program.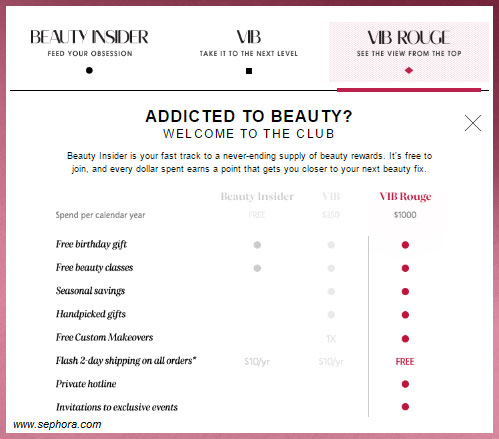 2. Make the reward point system much simpler
This is one of the most common loyalty program examples where after every purchase, customers earn some points as a reward. Those points can be redeemed later at a special discount or for special services. However, many companies make this simple process so complex that customers get confused. For example, '20 reward points equal to 1 dollar and earn 30 dollars to get 20% off on your next purchase.'
It actually is not a reward, but a headache for customers to understand. So, make your reward point system as simple as possible.
3. Support a noble cause with reward points
 Let your customers donate their earned reward points for a charitable cause. The American Red Cross enables you to donate in charity using your earned Air miles. You also can do so on your website.
For example, if you have a pet food company then you can allow customers to donate their earned points as a form of money to any rescue program for animals. It's a creative way to make your loyalty program different from others.
4. Create WOW moments through your loyalty programs
Create WOW moments for your customers. This is one of the best customer loyalty programs. Emailing reward points or sending a cake on the customer's birthday or anniversary is a great way of showing love and affection for your customers. Who does not like surprises that too on his/her special day? Trust me, your customer will love it.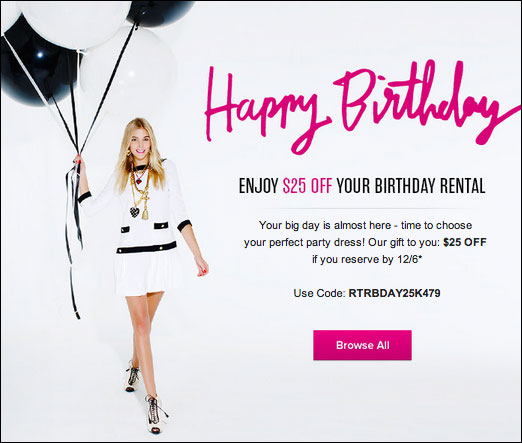 5. Rewards for referrals
Gaining new customers is much tougher than maintaining your existing ones, but it's not impossible. Let your existing customers promote your brand amongst their friends and family and upon successful completion, reward both of them with attractive deals or discounts which they can use for their next purchase.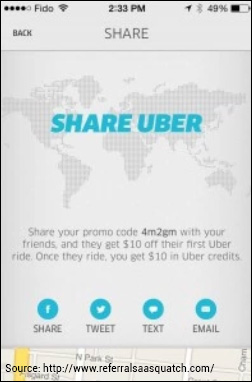 6. Offer free gifts after purchase
People love to get gifts and it will definitely entice them to repurchase from you. As you expand your business by adding more and more new products, let your customers try those before you actually launch them. Offer them free samples of your upcoming products, let them try in advance and you will get brand awareness through word of mouth.
7. Partnering with other companies for providing better offers
Strategic partnership with other companies is really effective in retaining customers. You need to understand the customer's needs and buying behavior to choose companies fit for the partnership.
Suppose, you sell beauty products online. So, it would be great if you partner with a spa or beauty parlor for providing more co-branded deals and offers. This way customers will feel that you really care for them and are keen to walk some extra miles for offering them the best.  
Loyalty program ideas should be dependent on your business objectives. First, decide what you want your customers to do next and based on that plan your loyalty programs.